Product features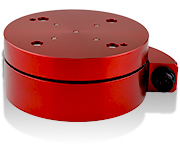 WACOH-TECH's Dyn Pick is extremely simple in principle and structure unlike conventional strain gauge types. Due to the capacitive principle, the number of components is small and assembly is easy, which enables mass production. With this, we offer force sensors, which were expensive in the past, at low prices.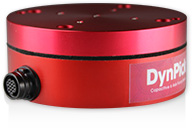 As an advantage of Dyn Pick, a correcting microcomputer is built into the sensor. Conventionally, strain gauge type force sensors would require use of a special-purpose amplifier box for correction. Unavoidably, strain gauge types would require this special-purpose amplifier box due to the need for significant amplification of the change in resistance value and its correction. As for Dyn Pick, however, a microcomputer having the correcting function is incorporated in the sensor by quickly identifying market needs. Since correction is made in the sensor, users can immediately acquire data on 6 axes by simply supplying power to the sensor.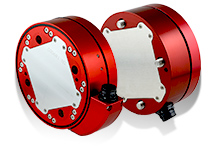 Dyn Pick is frequently attached to the end flanges of industrial robots and used in diverse processes, such as assembly, grinding, and deburring. Also, it has been adopted by many research institutions and universities. For use of Dyn Pick under whatever user environment, IP65 is specified as a standard. Furthermore, Dyn Pick is suitable for any type of use as it is CE-mark compliant by taking measures against noise (Emission: EN61000-6-4 and Immunity: EN610000-6-2 in the EMC Directive; both are standards for industrial environment).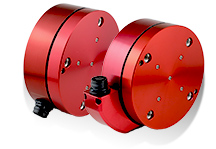 As another advantage of the capacitive principle of detection, a stopper mechanism is provided internally because the inside of the sensor is structurally simple. Conventional force sensors had an image of "being easy to break" while being expensive. As Dyn Pick includes WACOH-TECH's original stopper mechanism, the sensor is protected against destruction by overload in all directions. The sensor is protected even if it bumps against an industrial robot due to a wrong movement during teaching.
(Since the stopper mechanism is a sensor protective function as a backup measure, it should be used within the rated load range.)