Capacitive 6-axis force sensor (1000N)
Capacitive 6-axis force sensor (1000N)
(Rated loads:Fx,Fy,Fz:1000N Mx,My,Mz:30Nm)
WEF-6A1000-30-RCD-B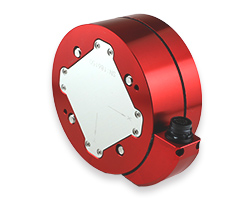 Outline
The Dyn Pick WEF-6A1000-30 series is a 6-axis force sensor the rated loads of which are 1000N on Fx, Fy, Fz and 30Nm on Mx, My, Mz. While the outer dimensions are φ90 x H40mm due to the large rated loads, the mounting screws and pinholes are the same in shape as WEF-6A200-4 and WEF-6A500-10 to facilitate its use. The WEF-6A1000-30 of these rated loads is a product that can be used for industrial robots with a large weight capacity.
This 6-axis force sensor with greatly improved reliability is suitable for diverse processes, such as force control of industrial robots, pressing force control, grinding, deburring, and assembly work.
Applications
Force control of industrial robots, precision fitting, deburring, pressing force inspection, grinding work, etc.
Operating portions of assistive devices
Machining control of machine tools, etc.
Features
Simple structure
and low cost

No external module
or amplifier required
Correction by built-in
32-bit microcomputer

Measures against overload by WACOH-TECH's original stopper mechanism
Spec
Type
Model:WEF-6A1000-30-RCD-B
MIN
TYP
MAX
Unit
Rated loads
Fx,Fy,Fz
-
±1000
-
N
Mx,My,Mz
-
±30
-
Nm
Linearity
-
-
3
%FS
Hysteresis
-
-
3
%FS
Cross-axis sensitivity
-5
-
+5
%FS
Zero-point temperature characteristics
-0.2
-
+0.2
%FS/℃
Output form
RS422
Outer dimensions
φ90×H40
mm
Current consumption
280mA or less (5V)
80mA or less (24V)
Weight
600
g
Dustproof and waterproof function
IP65
Ingress Protection code