Miniature capacitive 6-axis force sensor
Miniature capacitive 6-axis force sensor
(Rated loads:Fx,Fy,Fz:200N Mx,My,Mz:3Nm)
WDF-6M200-3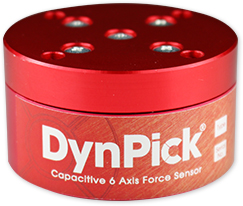 WDF-6M200-3
Outline
The Dyn Pick is a capacitive force sensor that can detect forces (Fx, Fy, Fz, Mx, My, and Mz) in six directions simultaneously. This WDF-6M is a miniature force sensor that is widely used by research institutions and universities. For miniaturization, the microcomputer adopted in the sensor has been downsized, and also WACOH-TECH's original stopper mechanism has been simplified.
USB output is made because usage with a personal computer is assumed.
Applications
Force control of industrial robots, precision fitting, deburring, pressing force inspection, grinding work, etc.
Operating portions of assistive devices
Machining control of machine tools, etc.
Features
Simple structure

and low cost

No external module or amplifier required, USB drive
Correction in the sensor

by built-in microcomputer

Measures against overload by WACOH-TECH's original stopper mechanism

(No stopper mechanism is available in the directions of Fx, Fy, and Mz.)
Spec
MIN
TYP
MAX
Unit
Rated loads
Fx,Fy,Fz
-
200
-
N
Mx,My,Mz
-
3
-
Nm
Linearity
-
-
3
%FS
Hysteresis
-
-
3
%FS
Cross-axis sensitivity
-5
-
+5
%FS
Zero-point temperature characteristics
-0.2
-
+0.2
%FS/℃
Output form
USB
Outer dimensions
φ50×H28
mm
Current consumption
200mA or less
Weight
120
g